What is Kona Coffee?
On a small strip of land about three miles wide and 20 miles long on the west side of the big island of Hawaii are the Kona Districts, North Kona and South Kona. This is the only place in the world where the authentic kona coffee is grown. Further, only a narrow elevation range of about 1000 feet to 3000 feet within this area supports the growth of kona coffee trees. Within this range the different altitude levels produce variances in the kona coffee crop.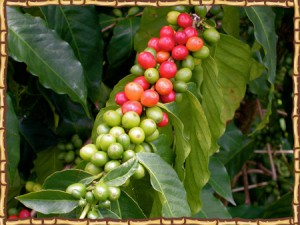 The prevailing weather patterns and influence from the volcanic mountains, Mauna Loa and Hualalai Mountain create a unique microclimate, which combine with the rich volcanic soil to make the perfect growing conditions for Kona Coffee. Sunny mornings and regular afternoon cloud cover with reliable seasonal rains and light ongoing afternoon scattered showers provide a "grown in the shade" effect, highly desirable for the production of fine coffee.
Economic changes over the course of kona coffee farming in Hawaii resulted in farm ownership changing from a handful of large food and beverage producers to numerous independent farmers, each with their own small plots of land within the Kona districts.
Today statistics claim roughly 600 or more pure kona coffee farms, with the majority being only a handful of acres and a few larger, more commercially successful farming operations.
Most of these independent farmers share a passion for producing the finest possible pure 100% kona coffee, much like an enthusiastic gardener's passion to produce the most flavorful bounty from their garden. Many have compared hawaiian kona coffee growers to the Napa Valley Vintners and their love of coaxing award winning wines from their vineyard "gardens."