Like many of the coffee farmers in Kona, having grown up on the mainland, Ken started out in a completely different line of work on an unrelated career path.
Already a coffee lover, Ken was making his own espressos with thick crema using special coffee he regularly ordered from Italy.
By his mid 20's, he had tried many of the world's coffees, but when a sales contest he was involved in featured a host of Hawaiian theme gifts, among them little boxes of Kona coffee, Ken tried the delicious Kona coffee and decided this was the best coffee he could possibly drink.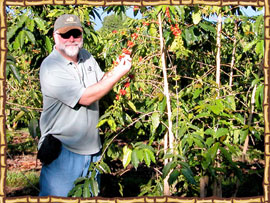 Over the course of time he tried whatever Kona coffees he could find (pre-internet shopping). Later on Ken signed up for professional coffee tasting or "cupping" lessons and went on to trying small roasters, learning roasting techniques, and attending specialty coffee industry conventions to feed his obsession.
The love of good coffee and a vacation in Hawaii led him to the heart of Kona Coffee country to witness the source of his obsession in person. "It was so beautiful I fell in love with the place. I knew somehow I must eventually wind up here," he decided. Ken searched for, found, and bought a beautiful pasture already surrounded on three sides by coffee farms and has set out to make his little slice of paradise a state of the art Kona coffee farm. So far he has planted over 3000 of the finest quality grafted kona coffee trees to insure the highest possible quality coffee bean.  Meanwhile he continues to focus on the nuances of profile roasting techniques and has acquired a commercial grade roaster built by Diedrich, considered to be the "Cadillac" of craft roaster manufacturers. Since then he has added real time data gathering software to track the roasting process and assure the perfect roast every time.